3 Housing Authorities whose Resident Services Astounded us in 2020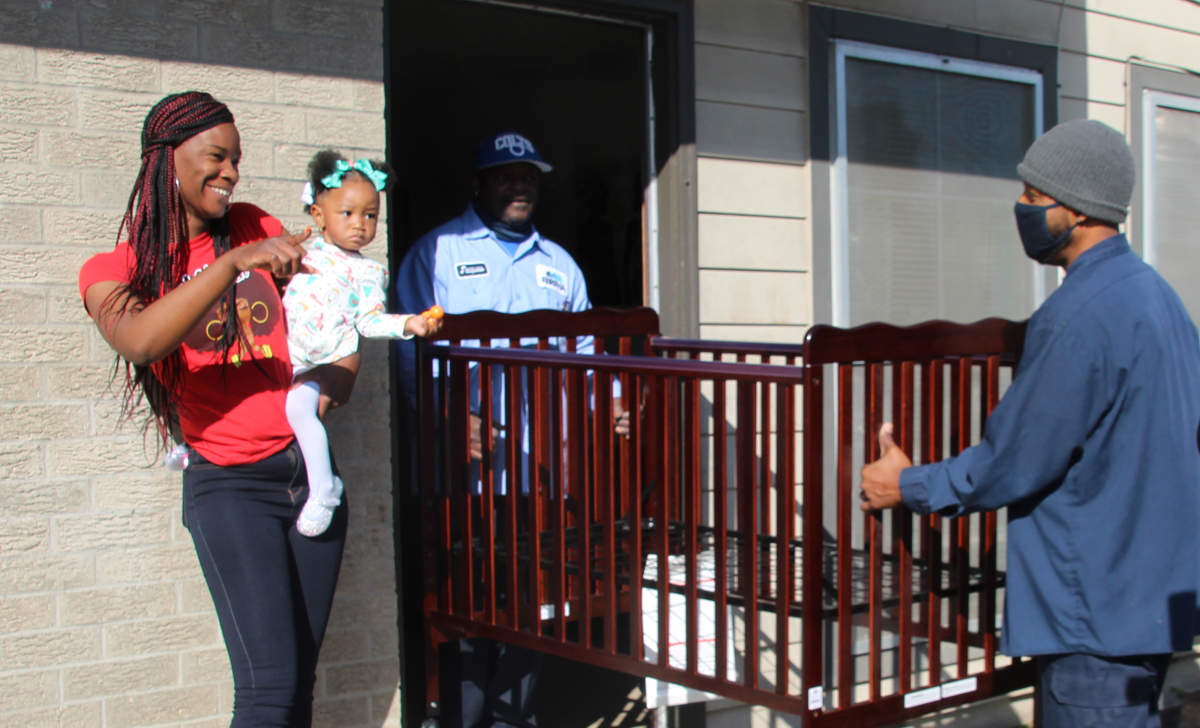 We would like to highlight two more winners of the 2021 NMA Housing Awards—our Resident Service awardees—as well as one other agency whose work impressed us.
East Baton Rouge Parish, LA steps up
For one southern city, last year, during the height of the pandemic, necessity was the mother of invention.
The idea for the Beds for Babies/Beds for Kids program began when a member of the E. Baton Rouge Parish Housing Authority maintenance team noticed children's bedrooms without beds and asked if he could purchase the wood and supplies to build a bed for these children. This problem of infants and young children sleeping on the floor or co-sleeping with parents and siblings was elevated to Director J. Daniels and the entire staff of the EBRPHA. Turns out under the financial stress of COVID-19 some new parents were struggling to buy these pricey items.
Director Daniels and his team found that 50 children had been sleeping with their parents, on sofas or pallets.
Assembling a solution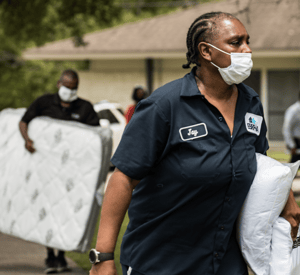 "Kids need sleep for health, wellness, and optimal learning," said EBRPHA Board of Commissioners Chair Dianna Payton. The agency could not use federal funds to address the need so partnered with EBRPHA's non-profit development arm, Partners Southeast to find funding.
"Beds for Kids" fundraising initiative was born. This initiative impressed the judges of the NMA Housing Awards because fundraising is so much more than raising funds. A funding mix of revenues, grants, in-kind gifts and volunteers is the best way to ensure sustainability for a cause.
It takes a village
In total they raised $25,000 and were able to purchase 68 beds. Each child received bedding supplies and pajamas and parents received valuable sleep training. Consider the fundraising and volunteer mix that made the response to the problem so robust:
The owners of Town and Country Furniture, a local company, stepped up to provide beds at cost. EBRPHA foundation Partner, Partners Southeast Board Chair, Pam Wall, hosted a very successful fundraising event at her home. Attendees included the 100 Black Men of Metro Baton Rouge, who joined other community members in donating a total of $20,000. Then the Junior League of Baton Rouge provided a Community Assistance grant for $5,000. EBRPHA was able to purchase 18 cribs and bedding with the grant, on top of 50 children's beds. J. Daniel's team even recruited local bike mechanics from Front Yard Bike Mechanics to volunteer to assemble the beds!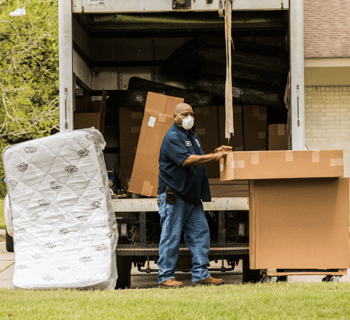 There are 13,000 people in EBRPHA's affordable housing communities and 700 children in E. Baton Rouge. Director Daniels was ecstatic that his team was recognized on a national level by receiving the 2021 NMA Housing Award. "We believe that through our 29 community partnerships and philosophy of providing access to health, education and economic opportunity that EBRPHA can indeed improve the lives of its residents and strengthen the East Baton Rouge Parish community."
NMA recognized EBRPHA with the Resident Service Award for a small agency, both for their compassionate response to their families, and for their excellence in involving their community in volunteering and fundraising; that is sure to have lasting dividends for the families of E. Baton Rouge with young children.
Collaboration in Columbus, OH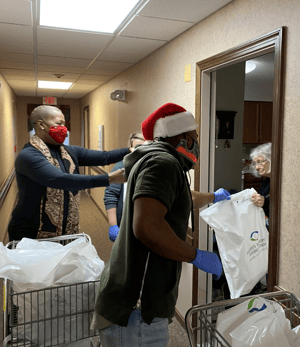 Columbus Metropolitan Housing Authority (CMHA), winner of the NMA Resident Service Award for a large agency, realized their residents needed an advocate to help them navigate government and community resources.
Because CMHA serves families and individuals whose annual income is at or below 30-80% of the area median income, residents are often eligible for other benefits meant to aid them on the path to self-sufficiency.
However, they were frequently unaware of these benefits. What's more, it was often complicated to determine whether they were eligible, then apply for and obtain services. And while CMHA employed a small number of onsite service coordinators, they weren't available at all residents' communities or to HCV recipients.
Connecting 14,000 dots
How does a housing authority find advocates for so many people?
CMHA's solution was an inspired partnership with Healthcare Collaborative of Greater Columbus (HCGC). This not-for-profit provides service coordination as part of its mission to transform the quality, delivery, and value of healthcare in the Columbus region.
HCGC already employed community health workers who provided comprehensive risk assessments and mitigation in the healthcare, social, behavioral, and economic spheres. Securing the services of these workers for CMHA's residents was a huge accomplishment, allowing the housing authority to bring service coordination to all 14,000 of its households.
"Through their partnerships with over 40 local community organizations, CMHA has curated a comprehensive network of community resources," notes HCGC President and CEO Carrie Baker. "CMHA's extensive service provider network allows the agency to serve as a single point of access for any and all supportive service needs."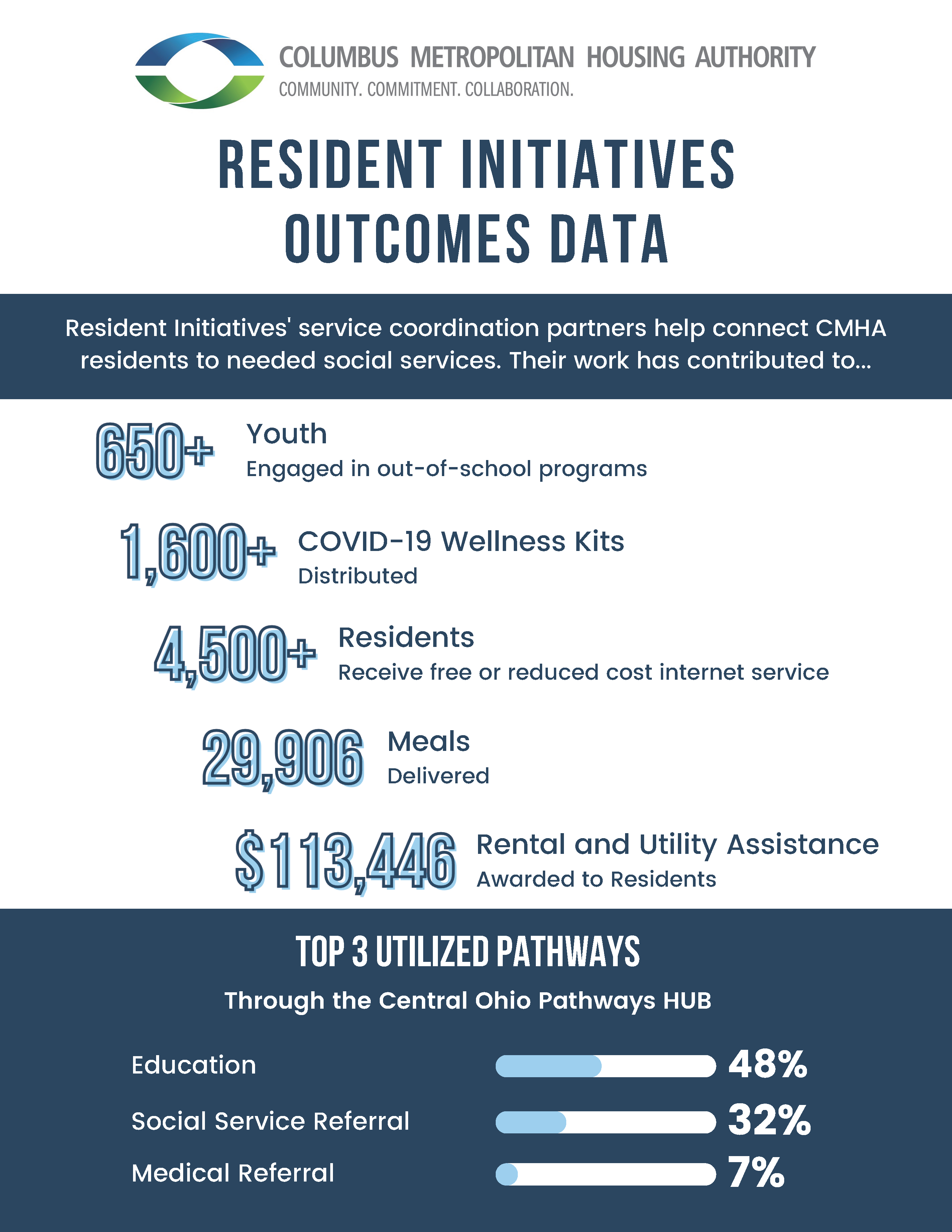 Changing lives for good
As a result of the partnership, CMHA and HCGC were able to offer residents sensitive, trauma-informed support in several areas, including:
Applying for emergency rental assistance and utility bill payment plans
Understanding lease agreements
Signing up for health insurance, unemployment, and food assistance
Finding employment, housing, medical care, and education
Managing health and wellbeing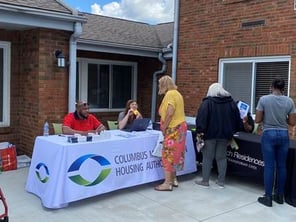 The top three pathways pursued were education, social service referral, and medical referral.
CMHA took the initiative to form a partnership that is proving invaluable to residents. Ask the more than 650 youth engaging with extracurricular programs. Or the 4,500 residents connected with free or reduced cost internet service. These numbers barely scrape the surface of the lives impacted by CMHA's dedication to its community.
San Diego, CA's first-class future housing workers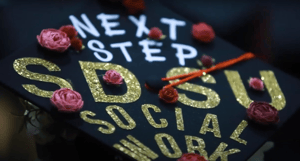 While watching people experience homelessness will tug at anyone's heartstrings, it takes a special kind of person to help—a person with not just the commitment, but also the qualifications.
The San Diego Housing Commission (SDHC), a nominee for the NMA Resident Service Award, identified a need for just this kind of person.
One of the most significant challenges to addressing homelessness in San Diego, SDHC found, was the lack of a workforce with the necessary skills and background. So they took the initiative to create a comprehensive college course that would upgrade their hiring pool.
Course of action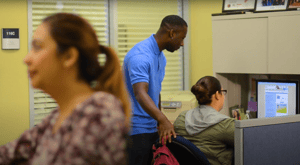 SDHC developed the Homelessness Program for Engaged Educational Resources (PEER) in collaboration with the San Diego Community College District, building on established certificate programs in mental health, alcohol and drug studies, gerontology, and social work.
They constructed PEER coursework to align with the strategies contained in the City of San Diego Community Action Plan on Homelessness, with a focus on the following:
Creating a client-centered homeless assistance system
Implementing a systems-level approach to homelessness planning
Improving the performance of the existing system
The new PEER course—Human Services 75—introduces students to the policies, governance, and operations of the homelessness services sector, particularly as they pertain to the San Diego region. Participants study evidence-based practices for assisting the unsheltered, as well as the origins and impact of the housing crisis.
Additionally, students have the chance to meet with a career coach for help with internship and job searches, allowing them to get real-world experience in the field.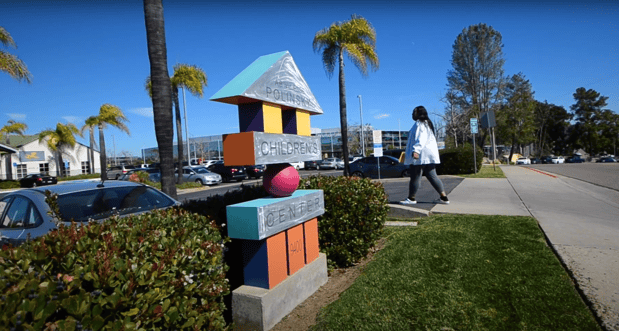 A popular science
PEER, which launched at San Diego City College in October 2020, turned out to fill a need for students as well as for SDHC. The program attracted more than 40 students for the fall semester and again for the spring semester.
Due to the intense demand, Mayor Todd Gloria put $250,000 in American Rescue Plan funding toward expanding PEER.
"This innovative collaboration is making a difference in San Diego," said Gloria.
The first-of-its-kind program represents long-term strategic thinking on the part of SDHC leadership. The course is an investment in the future workers who will join SDHC in finding homelessness solutions.
Learn more about PEER in this video (6 minutes) from San Diego City College.
The 2021 NMA Housing Awards Ceremony was held Friday, Sept. 17 on Zoom. View the recording (21 minutes) for more affordable housing inspiration!