Announcing the 2022 NMA Housing Award Winners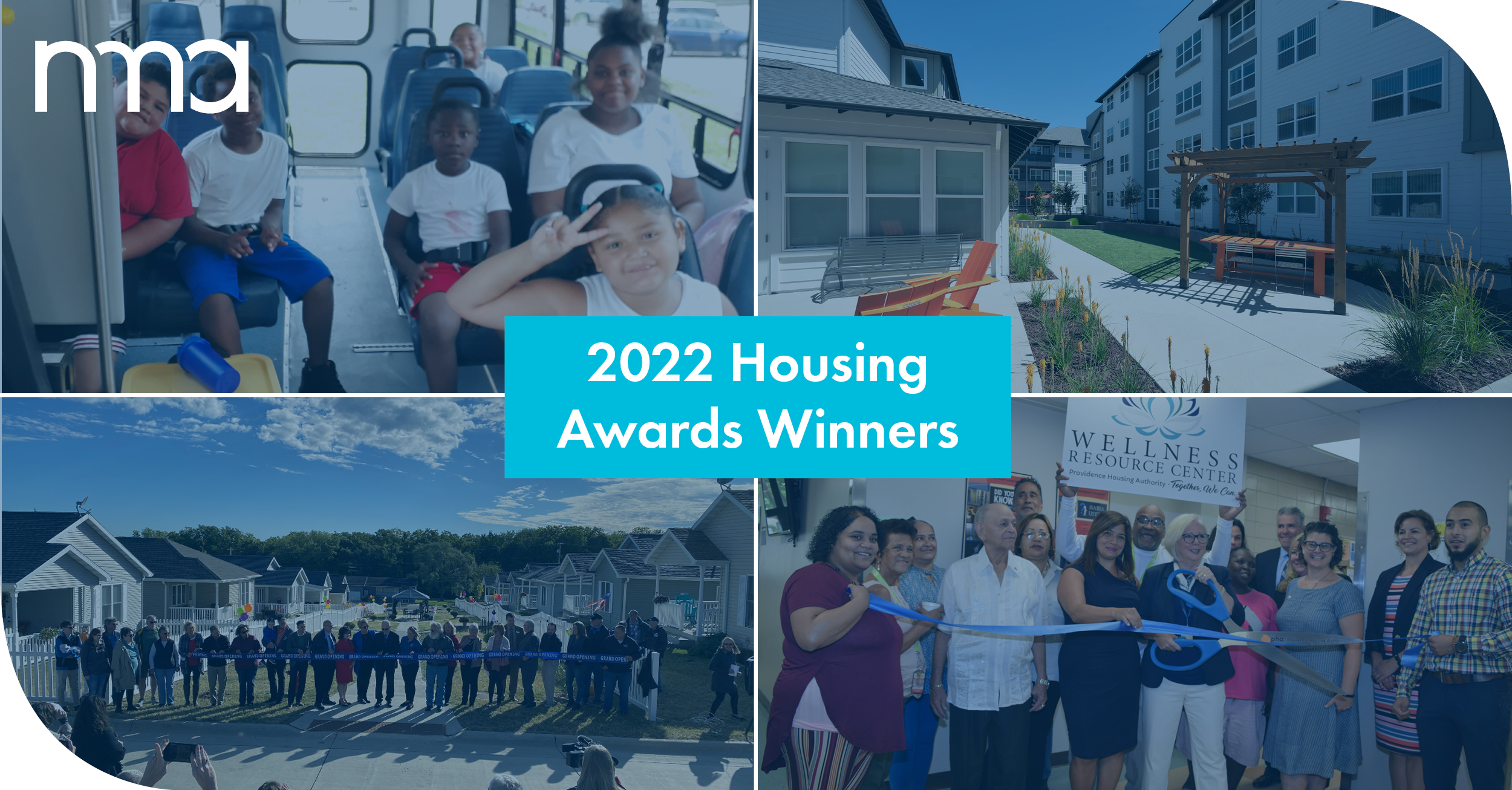 In an online ceremony today, CEO John McKay announced the winners of the 2022 NMA Housing Awards, annually given to recognize the excellence of individual agencies in the field of affordable housing.
NMA received a large number of submissions for both the Development Award and Resident Service Award. Winners of the Development Award for a Small Agency were Bear River Cottages Pocket Neighborhood in Eastern Iowa and Rosefield Village in Alameda, CA. Across the country in Rhode Island, Providence Housing Authority's Wellness Resource Center received the Resident Service Award for a Large Agency, and the Housing Authority of Covington, KY's Summer Programs won the Resident Service Award for a Small Agency.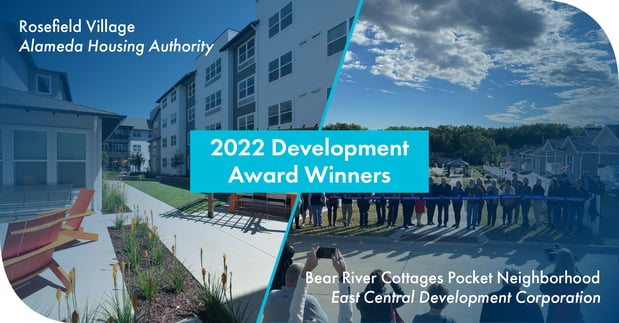 The NMA Development Award honors outstanding achievement in affordable housing. These achievements include new development or construction, green initiatives, property improvements, or outside-the-box financing.
The two winners of the 2022 Development Award established new affordable housing opportunities that emphasize a spirit of community.
Eastern Iowa's first pocket neighborhood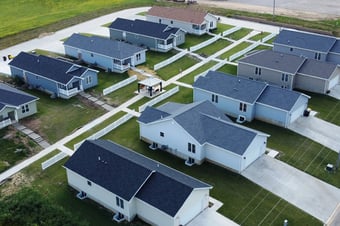 East Central Development Corporation (ECDC), the nonprofit affiliate of Eastern Iowa Regional Housing Authority, constructed the first pocket neighborhood in Eastern Iowa, a region facing widespread demand for quality affordable housing.
Located in Maquoketa, IA, Bear River Cottages consists of ten single-family homes.
Convenient and communal
The homes in Bear River Cottages are 1,067 square feet, with two to three bedrooms, two bathrooms, a two-car garage, a front porch, and energy-efficient appliances
Each household has access to a shared rain garden and gazebo, located in the center of the small community. The neighborhood is convenient to places of employment, schools, parks, a hospital, groceries, and other services.
Cost-effective housing
Each home has been sold for $150,000 to a qualifying buyer making 80% of the County Median Income. This income level includes Maquoketa's teachers, police, beauticians, and laborers in the manufacturing industry.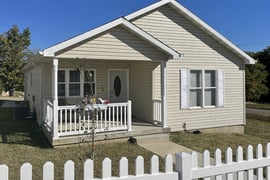 Buyers received assistance in the form of a $25,000 down payment and $3,500 toward closing costs. Their mortgage—including taxes, insurance, and homeowners' association fees—totals $1,000 a month, a lower rate than local three-bedroom rentals.
The program specifically addresses workforce housing needs, creating a home base for local employees.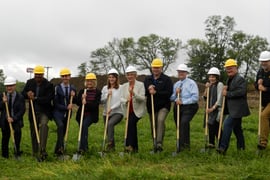 A challenging process
The project broke ground in September 2019. This meant ECDC persevered through the COVID pandemic shutdowns, which hit just as work begun on water and sewer infrastructure. Not only did the pandemic slow down construction, the program's target market of families making 80% of the County Median Income was heavily affected by layoffs.
To further complicate matters, an inland hurricane hit the region in August 2020. The supply chain interruptions and increased material costs brought on by the global pandemic were worsened by the local natural disaster.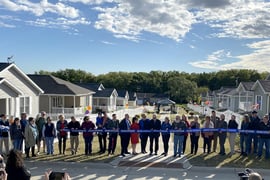 Home sweet home
Despite the setbacks, ECDC succeeded in creating a livable, walkable, and vibrant neighborhood with community space for the new homeowners to enjoy. These ten homes will provide stability, a safe place to live, and a sense of belonging.
Building strong community in Alameda

This year, Alameda Housing Authority (AHA) completed the Rosefield Village housing complex, an ambitious project that doubled the number of affordable homes formerly on the site.
The 92 new apartments and townhomes serve mixed-income families ranging from 20 to 80 percent AMI.
Designed with community in mind
Housing is a walkable half-mile from the local preschool, elementary, high school, and community college campuses, and across the street from grocery stores and pharmacies.
Central to the job market in a variety of fields, the intergenerational complex gives preference to households already living or working in Alameda. The housing authority partnered with Alameda Unified School District to target and prioritize teachers and other district employees.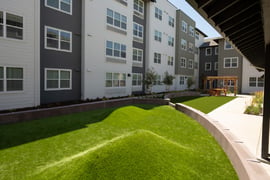 AHA worked with a relocation consultant during reconstruction to make the process as easy as possible for existing tenants. Residents were issued housing choice vouchers and given aid in finding appropriate rentals. While they had the option to port out, virtually all residents chose to remain in Alameda.
AHA's purposeful approach to coordinating the relocation and managing the lease up process resulted in affordable housing that serves to keep a community together.
Green all around
The property is less than half a block from public transit lines connecting residents to the whole of Alameda and the rest of the Bay Area. Every Rosefield Village household receives a free transit pass, and—in the interests of promoting alternate methods of transportation—the property offers long- and short-term bike storage spaces, too.
Through use of green technology, the property has obtained Green Point Certified Gold Rating. Additionally, construction and landscaping follow the City of Alameda's sustainable community strategy. Solar power fuels domestic hot water as well as a percentage of common area electrical use.
A network for support
Rosefield Village residents benefit from onsite supportive services provided by AHA's partner LIFESTEPS. These include:
Community engagement

Case management counseling

Health and wellness activities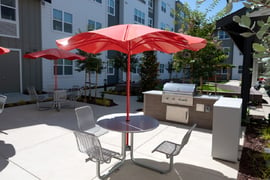 The housing authority also has a partnership with the local Boys and Girls Club so that all youth residents can take advantage of afterschool programming just one mile away from home.
Also onsite are two big outdoor community spaces with play equipment, picnic patios, and BBQ grills. The design aims to provide a space that's welcoming not only to residents, but to their visitors.
Long-lasting impact
The housing site is income- and rent-restricted for at least 55 years, a rent covenant that ensures affordable housing for a long time. There exists a severe housing shortage in California, and especially in the Bay Area; Rosefield Village addresses the rapid gentrification of surrounding neighborhoods by locking in affordability and prioritizing housing for those living and working in Alameda.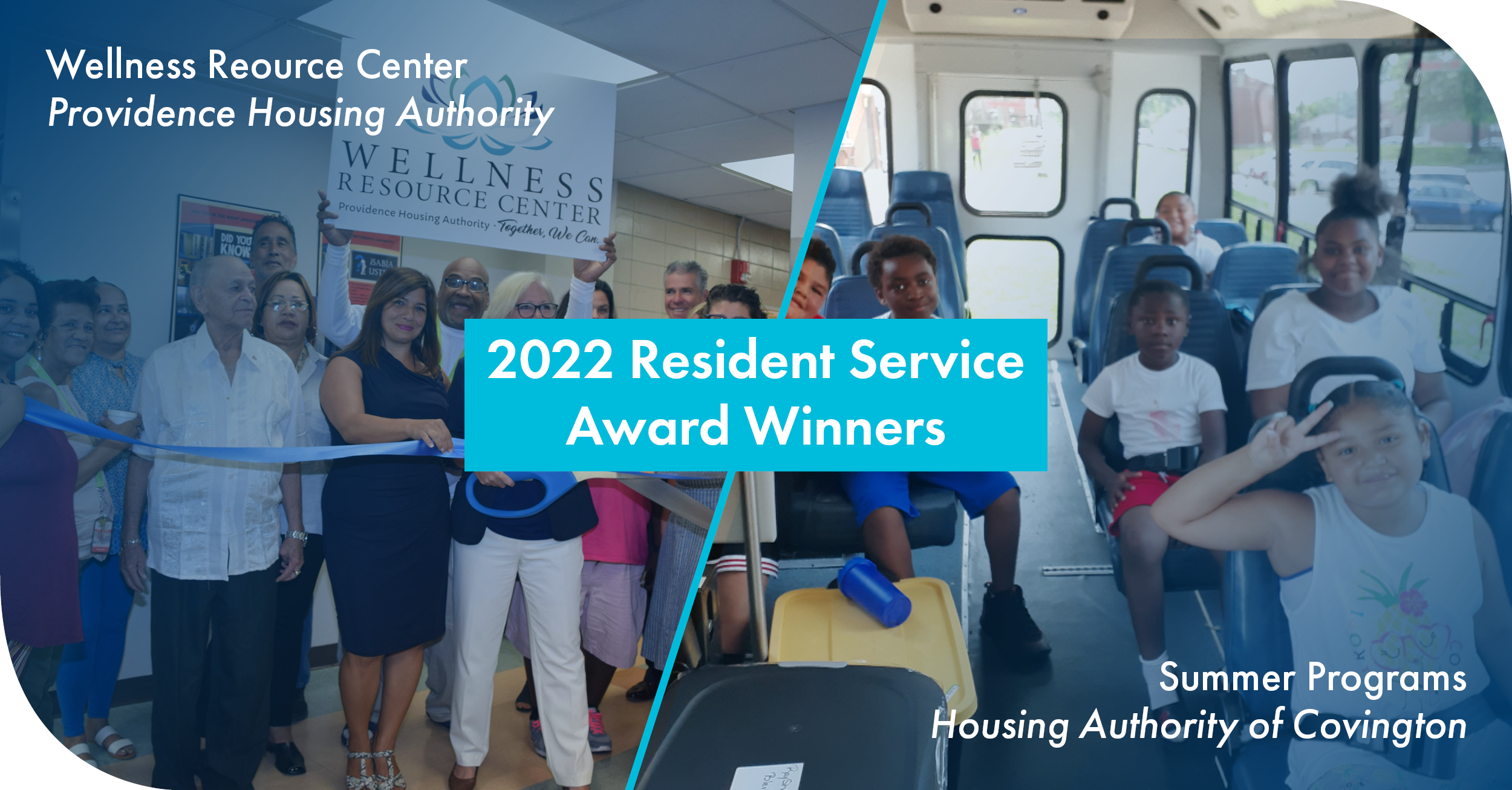 The NMA Resident Service Award recognizes leaders in the affordable housing industry whose community outreach and similar efforts improve the future of the families they serve. Such outreach includes self-sufficiency programs, community projects, education, or other participant initiatives.
An all-ages solution for an age-old problem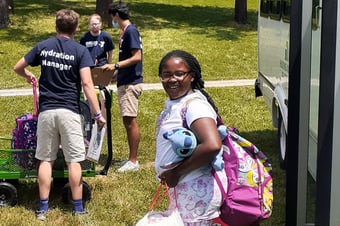 The Housing Authority of Covington (HAC) offers yearly Summer Programs for youth and adults, helping households advance personal and professional goals and seeking to break the cycle of generational poverty.
HAC's youth programs give young residents an opportunity to thrive. In particular, summer programming helps combat school break "learning slides" backwards. And HAC's programs for adults help families improve their futures through building life skills.
Serving 200+ youth
On top of a summer lunch program for all minors, making sure children stay fed when they can't get lunch at school, youth programs include:
STAR, a reading and technology program for ages 6 to 10
An overnight, outdoor summer camp for ages 7 to 13
YES, an enrichment skills program teaching soft skills for future employment opportunities, for ages 13 to 15
A teen summer work program for ages 16 to 20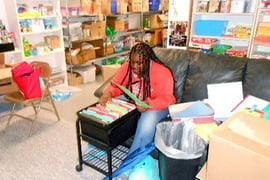 The Teen Summer Work Program provides young people with the chance to learn transferrable skills as well as work ethic. The teens earn money—$7.25 an hour, with 20 hours a week of employment—and get help opening bank accounts, starting them on the path to financial literacy and security.
During the pandemic, HAC increased their social media presence to keep reaching and engaging residents during shelter-in-place protocols. Families received free Wi-Fi to decrease the digital divide than can occur in low-income communities and to help students keep up with online school.
Programs for adults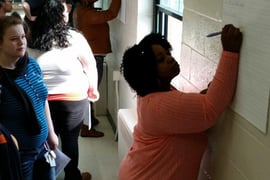 In HAC's work-readiness programs for at-risk adults, participants identify individual barriers to self-sufficiency, assist with goal-setting, and receive tools and support systems to achieve success.
More than 70 percent of program graduates go on to continue their educations or find employment. The housing authority shared two resident stories that drive home the results participants see:
After resident Pam went through HAC's work readiness program, she obtained her GED, completed the personal goals she'd set, and enrolled in an online university, becoming a first-generation college graduate.
Lakea struggled with a low credit score, limiting her options for owning a home and other opportunities. After increasing her financial literacy, creating a budget, and paying off her debt, her score went up 300 points. She has been able to focus on saving money toward homeownership.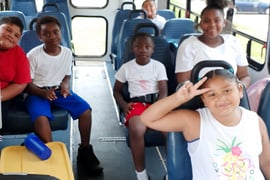 The staff of HAC's resident services department provide residents with case management, transportation, connections to community partners, job searches, access to food and clothing, advocacy, documentation for employment, and more. Sometimes, support means everything.
A safe place to reach out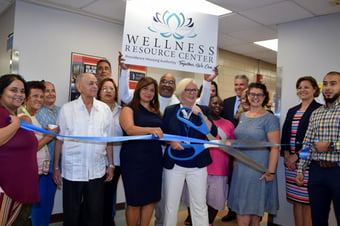 Providence Housing Authority chose a holistic approach to improving public housing resident quality of life with the creation of the Wellness Resource Center in 2019.
Established in response to the opioid crisis, the Wellness Resource Center was designed to overcome the observed reluctance residents had to discussing substance use and behavioral health with the people providing their housing, largely out of fear of eviction.
Opening the pathway to recovery
The center began by addressing life challenges through the lens of wellness. Early programming consisted of general discussion groups, arts activities, meditation, and community building events like coffee hours.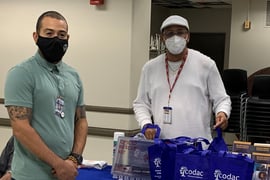 Building on the trust established in these lighter programs, the Wellness Resource Center progressed to offering presentations about substance use, needs assessments, treatment referrals, and case management.
Through extensive outreach, engagement with residents, and bringing services onsite, Providence Housing Authority has been able to break down barriers that kept residents from seeking addiction treatment and related services.
Staffed to serve
Originally staffed by a substance abuse specialist, the Wellness Resource Center now also employs three community safety coordinators, a community health worker, and a licensed independent clinical social worker.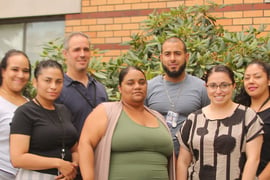 The team provides direct services to around 500 residents each year. Community Safety Coordination and Community Health Outreach Worker programs were brought in to address commonly co-occurring issues like victimization by violence, trauma, and lack of access to health care.
Trained staff can make all the difference to residents who need support. These staff positions are a true investment in the welfare of Providence Housing Authority's participant community.
The Critical Incident Response Team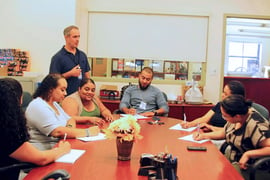 In response to the increased financial hardship and threats to housing stability brought on by the pandemic, the Wellness Resource Center established a Critical Incident Response Team to address situations where individual safety or housing stability was jeopardized.
The response team assesses the resident's needs, engages any necessary service providers and interventions, expedites referrals, helps the resident develop a plan to preserve housing, and tracks outcomes. This team responded to 52 crisis situations in Fiscal Year 2022.
The opioid crisis demands response, and Providence Housing Authority has delivered. Their program is expanding and growing to continue filling the needs of their residents, holistically, thoughtfully, and compassionately.
***
NMA congratulates the 2022 NMA Housing Awards honorees. We look forward to seeing where these excellent projects lead!