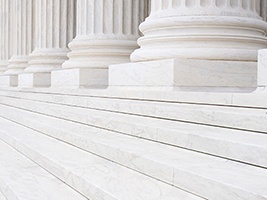 On Wednesday in the Federal Register, HUD's Office of Public and Indian Housing (PIH) published a notice implementing several of the provisions of the Housing Opportunity through Modernization Act (HOTMA) that impact the housing choice voucher (HCV) and project-based voucher (PBV) programs, in addition to requesting comments on both current and future implementing requirements. The HOTMA implementation notice is broken down topic-by-topic, followed by specific questions for comment in each corresponding section. The first sections of the notice address:
Allowing PHAs to approve tenancy and commence HAP payments when a unit fails HQS, but only if it has non-life-threatening deficiencies.
Authorizing occupancy prior to inspection if the unit passed under an alternate inspection within the previous 24 months.
Amending the definition of units owned by the PHA so that the unit is PHA-owned only if unit is in a project that is: owned by the PHA, owned by an entity wholly controlled by the PHA, or owned by an LLC or limited partnership in which the PHA or entity wholly controlled by the PHA holds a controlling interest in the managing member or general partner.
The notice also addresses numerous statutory changes to the project-based voucher (PBV) program set forth under HOTMA, covering implementation requirements for the following:
Changing the terminology in the statute from "structure" to "project."
Changing the PHA HCV program limitation on PBV vouchers from a 20 percent funding limitation to a 20 percent unit limitation calculation and allowing for additional project-basing of vouchers by raising the limit an additional 10 percent for homeless families, families with veterans, supportive housing for persons with disabilities or elderly persons, or in areas where vouchers are difficult to use.
Changing the income-mixing cap on the number of PBV units in a project to be the greater of 25 units in a project or 25 percent of the units in a project (the project unit cap), and making changes to the categories of PBV units that are excepted from this project unit cap.
Allowing the PHA to provide for an initial PBV contract of up to 20 years and to further extend that term for an additional 20 years.
Allowing the PHA to establish a selection preference for families who qualify for voluntary services, including disability-specific services, offered in conjunction with assisted units, provided that the preference is consistent with the PHA plan.
Allowing the PHA to attach assistance to structures in which the PHA has an ownership interest or control without following a competitive process.
Allowing PHAs to project-base HUD–VASH and FUP vouchers in accordance with statutory and regulatory requirements of the PBV program without additional requirements for approval by HUD.
The implementing requirements set forth in today's notice become effective April 18, 2017. Comments on the specific questions posed in the notice are due by March 20.
Got questions about HOTMA? All of NMA's HCV classes have been updated for the new payment standard rules. Register at least 45 days in advance for most seminars and you'll receive a 10 percent discount. (The discount does not apply to seminars hosted by housing authorities or associations.)