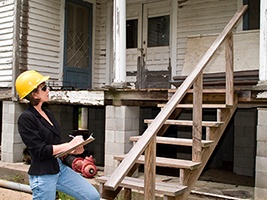 This morning in the Federal Register, HUD's Office of Lead Hazard Control and Healthy Homes (OLHCHH) published a proposed rule titled "Requirements for Notification, Evaluation and Reduction of Lead-Based Paint Hazards in Federally Owned Residential Property and Housing Receiving Federal Assistance; Response to Elevated Blood Lead Levels." The proposed rule would amend HUD's current regulations on lead-based paint at 24 Code of Federal Regulations (CFR) Part 35.
As explained in an accompanying press release, the proposed rule would redefine "'elevated blood lead levels'' in children under the age of six to match the definition used by the Centers for Disease Control and Prevention (CDC).
"There is no amount of lead in a child's blood that can be considered safe," said HUD Secretary Castro. "We have an obligation to the families we serve to protect their children. By aligning our standard with the one used by the Centers for Disease Control and Prevention, we can act more quickly and make certain the homes we support are as safe as possible. This proposed rule is the centerpiece of HUD's intensified efforts to protect our next generation from debilitating lead poisoning."
The proposed rule would apply to the voucher and public housing programs, to some HUD-assisted multifamily programs, and to some properties receiving non-HUD federal assistance. The deadline date for comments is October 31, 2016.
Keep up with proposed rules like this one with a subscription to NMA's PIH Alert. You'll receive a daily email filled with up-to-the-minute program changes, requirements, and assistance. Email sales@nanmckay.com for more information.