Get certified for housing quality standards (HQS) online!
(Updated 10/25/2021)
Did you know that you can receive an official HQS certification without even leaving your desk? Nan McKay and Associates and HAI Group have teamed up to offer the Housing Quality Standards (HQS) certification online:
The 16-hour course is led by senior NMA trainer Jay Ortenzo, a seasoned expert in HQS inspections who will guide you through the standards in a practical and easy-to-understand format.
Upon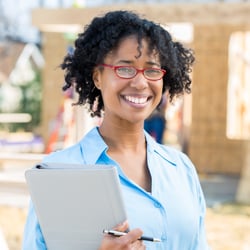 completion of this certification course, learners will have the information and skills required to complete HQS inspections on vacant or occupied units to determine if units pass or fail pursuant to HQS minimum standards. The course covers the correct completion of an HQS inspection form during the inspection, how to design an upgrade to HQS when given the assignment to develop a higher reasonable standard with HUD approval, as well as lead-based paint regulations and their impact on the HCV program. In addition, HQS-related SEMAP indicators and their impact on the PHA's SEMAP score are included.
Our longtime partnership with HAI Group offers students the opportunity to enjoy many training options, all of which provide a Nan McKay and Associates certification upon successful completion. NMA and HAI Group are the only IACET-approved training and certification companies serving the affordable housing and public housing industries, which means you get the highest quality training plus the certification to show your achievement. IACET is a nonprofit association dedicated to quality continuing education and training programs and is the only standard-setting organization approved by the American National Standards Institute (ANSI) for continuing education and training.
Other available online NMA certifications include:
For more details on live webinar training or onsite training for your agency email sales@nanmckay.com. If you are interested in online training opportunities email OnlineTraining@housingcenter.com. In addition, do not miss this blog post with tips to help you get the most out of your online training.
Specializing in real property services, Jay Ortenzo has been a technical trainer and consultant with Nan McKay and Associates for more than 20 years. With nearly four decades of housing experience in both public and private sectors, he develops technical training manuals and materials relating to federally subsidized programs on housing inspection, maintenance, and modernization.