President Obama releases proposed 2017 HUD budget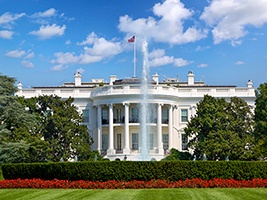 Yesterday the Obama administration released its proposed budget for federal fiscal year (FFY) 2017.
In a news release, Department of Housing and Urban Development (HUD) Secretary Julián Castro praised the HUD portion of the budget for its focus on securing quality housing for Americans, ending homelessness, making communities more resilient, protecting people from housing discrimination, and providing critical rental assistance:
HUD's proposed budget was built on the values that we uphold as Americans. That our entire nation benefits when our children grow up in a community that's full of promise, not problems. When a hard-working family is able to responsibly buy their first-home, put down roots, and build wealth. When homeless veterans are able to get the housing they need to succeed in the very nation they risked so much to protect. When every person gets a fair shot and a fair shake to achieve their dreams.
What does the Obama administration propose for the housing choice voucher (HCV) and public housing programs in 2017? The proposed budget for HUD requests a total of $20.9 billion for the HCV program, or not quite 1 percent less than it requested for 2016. The total breaks down this way:
$18.4 billion for voucher renewals, or 0.6 percent more than was requested for 2016
$110 million for tenant protection activities, 27 percent less than was requested for 2016
$2 billion for administrative fees, or 3 percent less
$110 million for renewal of vouchers for persons with disabilities under Section 811 of the Cranston-Gonzalez National Affordable Housing Act, or 2 percent more
$60 million for the supportive housing program for homeless veterans, a 20 percent decrease from the amount provided the past several years
$88 million for new vouchers for families with children who are experiencing homelessness
$15 million for a new housing choice voucher mobility demonstration
As for the public housing program, the HUD portion of the proposed 2017 budget includes these requests:
$1.87 billion for the capital fund, or about 5 percent less than requested for 2016
$4.6 billion for the operating fund, or 0.7 percent less than was requested for 2016
$200 million for Choice Neighborhoods, or 20 percent less
For the consolidated family self-sufficiency (FSS) program, the proposed budget includes $75 million for family self-sufficiency coordinators, 12 percent less than requested for 2016.
You will find the president's message to Congress here, a slide presentation of the proposed HUD budget here, a brief summary of it here, a press release about it here, links to the congressional justifications for the various parts of it here, and the appropriations language submitted to Congress here.
To stay updated on the latest program information, subscribe to the PIH Alert and receive a daily email with news and analysis for PHAs and housing professionals.