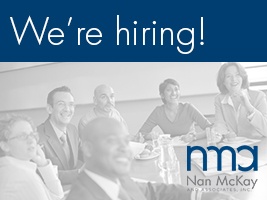 If you have public housing experience and a desire to pass on your knowledge, we want to hear from you! NMA is currently seeking bilingual contract trainers, willing to travel once a month or more, who have a solid foundation of knowledge and experience in public housing.
Nan McKay & Associates (NMA) has long-established itself as an industry leader in providing training solutions to housing authorities. Since 1980, we've reached thousands of public housing agencies and their staff by administering innovative programming, educating on the latest HUD rules and regulations, and developing enthusiasm in our shared housing and community goals.
As a contract trainer with NMA, you'll create positive change in the affordable housing industry by providing the most in-depth training and education on the intricacies of affordable housing program.
If you are interested in becoming a contract trainer with NMA, please submit your resume and cover letter via email to jobs@nanmckay.com. Emails only, please.
Want to join the NMA team in another capacity? Click here to check out our latest job openings on our careers page.